Gordon Myers
Articles on Life, Truth, Love, Computers, and Music
---
Why are they arguing?
The following post intersperses verses from the Bible account of Bartimaeus, from the 10th chapter of Mark, with my own interpretation of what might have been going through Bartimaeus' head at the time. Bible verses are italicized and presented in a serif font, with a summary at the end after the picture.
---
As he went out of Jericho with his disciples and a great number of people, blind Bartimaeus, the son of Timaeus, sat by the highway side begging.
I've been sitting here my whole life. What's going to happen today? The same thing that happens every day. People will walk by with their smug looks and feigned sympathy. I'm sick of this. Why did I have to be born this way?
And when he heard that it was Jesus of Nazareth, he began to cry out, and say, Jesus, thou son of David, have mercy on me.
Jesus... I've heard of him! This is my chance! They say he can heal the blind. They say he gives hope to widows. They say he can resurrect the dead. I need to get closer. Jesus, help!
And many charged him that he should hold his peace: but he cried the more a great deal, Thou son of David, have mercy on me.
Wait... what? Why are they arguing against me? These same people who walk by to the temple and look down on me and pretend to wish me well. Why don't they realize that this is what I need? Can they really not see how obtuse they're being? You know what, they have never done anything for me. I need to get closer to Jesus. I don't care what they say. This is my chance. Jesus, please hear me!
And Jesus stood still, and commanded him to be called. And they call the blind man, saying unto him, Be of good comfort, rise; he calleth thee.
He called me. He called me!
And he, casting away his garment, rose, and came to Jesus.
I am done with this life. I am done with this begging, this blindness, this exile within my own body. I am done with it. I am standing up to it and casting it aside once and for all.
And Jesus answered and said unto him, What wilt thou that I should do unto thee? The blind man said unto him, Lord, that I might receive my sight.
Wow. I've never felt a love like this before. That word doesn't even do it justice. I have never felt what I'm feeling now. But his question: what will you do to me? Isn't it obvious? Can't he see who I am? Can't he see what a wretch I am? I want you to heal that, Jesus!
And Jesus said unto him, Go thy way; thy faith hath made thee whole. And immediately he received his sight, and followed Jesus in the way.
Wait, he really couldn't see it. I'm not a wretch. I'm not hopeless. He couldn't see it because it's gone. I can see. This is who I've always been. Wow! I feel on fire! I can see! This is what I've always been looking for! I cannot contain or describe this joy I'm feeling! From now on I want to share this with everyone I meet. I have to share this with everyone I meet. He really does heal the blind. I can see! Praise God!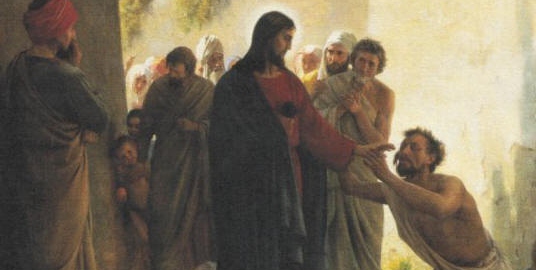 The part that always stands out to me the most in this story is the response by all the other bystanders when Bartimaeus first starts to reach out for Christ. They inexplicably resist his efforts. The question I'm always left with is the question I presented above: Why are they arguing against me? When someone is reaching out for geunine healing, what would you voice to them? Are you one of the voices in the crowd telling them "that's impossible" and essentially "get back in place"? The only explanation I have for why anyone would make these arguments is because they don't realize what they're saying. People get too self-absorbed to recognize what it is they're really communicating to others, otherwise they wouldn't say such things.
It also stems from the belief that people are made up of nothing but matter, and the consequent belief that either God, too, is somehow material, or that He doesn't exist at all. When we think of others as diagnoses, as matter bodies made up of certain proportions, proclivities, and of a certain age, those thoughts limit ourselves and others. And that way of thinking tends to discouarge others from breaking free of those limits. I think this statement by Mary Baker Eddy explains this well:
The belief that God lives in matter is pantheistic. The error, which says that Soul is in body, Mind is in matter, and good is in evil, must unsay it and cease from such utterances; else God will continue to be hidden from humanity, and mortals will sin without knowing that they are sinning, will lean on matter instead of Spirit, stumble with lameness, drop with drunkenness, consume with disease, -- all because of their blindness, their false sense concerning God and man.
The story above highlights Bartimaeus' encounter with the Christ. And it's good to realize that a genuine encounter with Christ is not something that can be faked. It's not something that can be induced by drugs or created through will-power. It's not dependent on ones attendance in church or having the right Sunday School teacher. An encounter with Christ is individual and unmistakeable. It requires both the receptivity of a humble beggar and the willingness to stand up for oneself, acknowledging that one is worthy and that there is hope.
You never know what the people around you may be going through. So today, I encourage you to watch what you say. Don't get caught up in the kind of subtle arguments that effectively tell Bartimaeus to sit back down. Don't think of people as material labels. Don't be a discouraging bystander with a narrow view of reality. See people as spiritual beings, never a mistake, never broken, never less-than. Acknowledge that each person you encounter has a unique purpose only they can fulfill. And that includes you! Be the voice of encouragement, and if you see someone reaching out for Christ, for heaven's sake, don't get in their way!
---
1 Comment from the Community: