Gordon Myers
Articles on Life, Truth, Love, Computers, and Music
---
When you stand accused
This post is a continuation in my series on Biblical Models for Handling Controversy. In my last post, I broke down controversies into four distinct categories, and then went into detail on the first scenario -- namely, when you've done something wrong yourself. I included lessons from the Bible and correlative ideas from 19th century Christian pastor, Mary Baker Eddy. In this post I'll be covering the next scenario: when you've been accused of wrongdoing... that you haven't actually done.
If someone's ever said hurtful things about you, or accused you of something you didn't do, you can end up feeling pretty hurt yourself. And the accuser might be oblivious, or just insensitive, to how much trouble they've caused you. Often, people will see what they want to see, which means if they are determined to see the worst in you, they will. They'll either find a reason to hate you, or make one up. If you've ever been on the receiving end of that negativity, you might want to run away and hide in a cave. But before you do, you'll want to know what practical advice the Bible has to offer.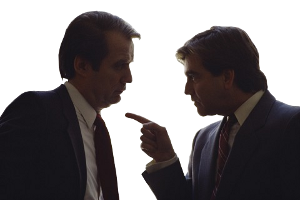 And actually... running away can sometimes be a good choice! It depends on the circumstance, of course, but in some cases the wisest course of action may be to maintain a healthy amount of distance. This is exactly what King David did in the Bible.
David didn't do anything wrong during his time serving under King Saul, but his accomplishments quickly became a source of jealousy for the king. Eddy touched on this when she wrote: "Your advancing course may provoke envy, but it will also attract respect." It was Saul's insecurity and weakness that brought on the false accusations. He even tried to kill David by throwing a javelin at him. But do you know how David responded? Not by throwing a javelin back, but rather: "David avoided out of his presence twice." In other words, he kept a healthy amount of distance from a tough situation.
But that's not always possible. Sometimes you have no choice but to continue interaction with someone who has it out for you. So what then? Be on your best behavior. Earlier I wrote about the importance of doing the right thing after you've made a mistake. It may actually be more important to do the right thing when you haven't made any mistakes -- but when you've got green eyes watching your every move. The Bible touches on this too; it says, "David behaved himself wisely in all his ways, and the Lord was with him."
"But that's not fair," you might say, "I'm innocent!" These sorts of situations are tools that help us grow. The writer of Proverbs says, "as iron sharpens iron, so one person sharpens another." Wouldn't you agree that these things force you to stay sharp? That's not a bad thing; it's an opportunity to grow. It can ultimately draw out the very best in you. Eddy has this to say: "Whatever purifies, sanctifies, and consecrates human life, is not an enemy, however much we suffer in the process."
Most important of all, though, is to remember that hatred won't get you anywhere. If someone has decided to hate you, whether unwittingly or intentionally, you cannot respond in kind. You have to rise higher, find some way to honest-to-goodness love them, and trust God to work out the details. Kill 'em with kindness, as they say. Remember that your accuser isn't the one who gets to make a final judgment call, even if they're in a position of authority. Real authority only ever comes from God, and Love always gets the last word.
When Daniel was thrown into a den of lions for violating a trumped-up charge, he didn't confront his accusers. He didn't harbor any hatred toward them at all. Joseph's story is even more inspiring. His brothers left him for dead, he was falsely accused of rape, and was imprisoned for years. He had every right to be angry. But instead, he met his accusers with tears of joy in his eyes. And with magnanimous forgiveness, he said, "You intended to harm me, but God intended it all for good."
Please don't think I'm saying that you should gloss over false accusations. After all, one of the commandments is "Thou shalt not bear false witness against thy neighbor." You want the truth to come out; you want redemption. It will happen. (Maybe not with fanfare, but it will.)
I'm also not implying there's an easy way to skip directly to "Go" and collect $200. The Bible doesn't promise any shortcuts. Part of the growing experience can be learning to stand up for yourself -- but always in a way that doesn't make it personal. This may involve speaking boldly, or it may involve remaining silent. The only way to know for sure, in your situation, is to pray. Ask God what to do. And then trust His answer. There is a light at the end of the tunnel. I'll close this post with a few Biblical promises that are heartening.
"Humble yourself under God's mighty hand, that He may lift you up in due time." (Peter)

"No weapon turned against you will succeed. You will silence every voice raised up to accuse you." (Isaiah)

"You will not need to fight in this battle. Stand firm, hold your position, and see the salvation of the Lord on your behalf." (Chronicles)

"I won't be afraid of thousands of people surrounding me on all sides. Rescue comes from the Lord!" (David)

"The Lord says, 'I will give you back what you lost.'" (Joel)
---