Gordon Myers
Articles on Life, Truth, Love, Computers, and Music
---
Feeling Rejected?
Recently I saw a TED talk titled Surprising Lessons From 100 Days of Rejection, given by Jia Jiang, an aspiring entrepreneur and blogger. He tells his own story of how he quit his job to pursue a dream of becoming a self-made entrepreneur, and the rejection he's faced along the way. For instance: over the course of four months, he built a small company, developed a business model, and pitched a prototype to investors, only to have all his ideas coldly shot down without explanation.
"I was crushed," he said, "I wanted something so bad, that when you get rejected, it really hurts. [...] It really crippled me." Before getting back up and trying again, he decided he needed to deal with his fear of rejection. He discovered a program called "Rejection Therapy," where people intentionally put themselves in situations where they are sure to be rejected, in an effort to numb themselves to it.
I'm not really sold on the idea of "rejection therapy" myself. But I could definitely relate to his description of feeling "crippled" by rejection, and his earnest desire to get past that. He goes onto explain that during his rejection therapy, when he expected to hear "no," he started to hear "yes"es (to his pleasant surprise!). The most memorable "yes" was when he asked a Krispy Kreme worker to make him custom donuts, not on the menu. Not only did they do this for him, but they did so free of charge.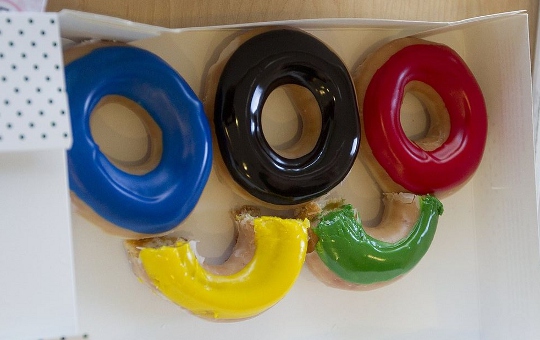 It's gotten me thinking about this deeper issue of rejection. Lots of people develop a strong aversion to rejection which can end up buried beneath the surface -- whether that's rejection by a romantic interest, or by investors, employers, or perhaps by ones own parents. The sting of rejection can make you want to throw in the towel and just be done with life. So I started doing a little digging through the Bible along with Science and Health with Key to the Scriptures for answers to the question: how do I get past rejection? Does Jesus provide any instructions for Christians on this?
The good news is: yes, he does! Let me quote a passage from Scripture, in two different Bible translations:
Ask, and it will be given to you; seek, and you will find; knock, and it will be opened to you. For everyone who asks receives, and he who seeks finds, and to him who knocks it will be opened.
Don't bargain with God. Be direct. Ask for what you need.
In both translations, Jesus encourages you to ask for what you need, to be specific about your request, and promises that your request will be fulfilled. Jesus doesn't say, "ask, and if it's not given to you, then you might as well quit." No, if we are going to expect goodness, we must keep asking and striving for it. It isn't our job to open the door; it's only our job to knock. It's God's job to open the door, when we let Him.
I believe that God puts desires in our heart for a reason. But sometimes we feel the influence of the world and start to believe that we desire things that we don't really want. So there's a distinction to be made between real desires and unreal desires. Real desires come from God, while unreal ones don't. Real desires have a plan of fulfillment already in place, unreal desires must pass away. And because real desires come from God, they can never really die.
Rejection can seem like an aggressive voice trying to say that your real desires are illegitimate, or that you're not good enough to have those desires fulfilled, and so on. But that "voice" is nothing but a lie, repeating itself. Even in the fires of rejection, a real desire cannot ever burn away, though it certainly can be purified and refined.
So what do you do when faced with rejection? Keep asking for what you need. Keep striving for it. Be importunate. (Look it up.) But you also have to be humble enough to listen for the answer, even if it doesn't come in the form that you had in mind. It may seem like the world will not make room for you, but when you shut out the voice of rejection and humbly listen for the voice of God, you will find whatever it is you need. That's a promise.
---
2 Comments from the Community: