Gordon Myers
Articles on Life, Truth, Love, Computers, and Music
---
Be a Pray-er, not a Consumer
Right now lots of people are glued to their TV screens watching the events unfold in Watertown, Massachusetts. With a host of cities in the area effectively shut down in a state of emergency, lots of people feel they don't have any other choice but to watch the news reports and wait. But there is one option that's always available, no matter the situation: prayer.
In the Bible, Jesus gives counsel on how to pray effectively. Here's how Mark records it:
What things soever ye desire, when ye pray, believe that ye receive them, and ye shall have them.
That's a very hopeful statement. A prayer, silent and confident, will be answered by God. But everyone knows that not every prayer they've ever said has been answered in the way they wanted. So what gives? Well, James has an answer for that:
Ye ask, and receive not, because ye ask amiss, that ye may consume it upon your lusts.
So prayers aren't answered when they are meant to be "consumed upon ones lusts." What the heck does that mean? Well, the word "lust" certainly stands out. But lust isn't just limited to things like prostitution and pornography. Lust, as a concept, is really about the "more, more, more" mentality that is never satisfied and never has enough. The word "consumption" also stands out. Though, consumption in and of itself isn't a bad thing. We consume food every day. Jesus even instructs us to pray for "daily bread" -- and not just to look at, but to consume. But it's the pairing of "consumption" and "lust" together that is really the key to this passage. That speaks to the concept of overconsumption. Because while consuming daily bread is normal and natural, consuming 300 pounds of daily bread wouldn't be.
And I believe the same is true when it comes to any kind of consumption -- including information consumption. We want to consume a normal and healthy amount of information. We don't want to hide away from the world with our heads in the sand. But on the other hand, we want that consumption to be natural and not in excess. Being glued to news reports isn't healthy. That isn't consuming in moderation. And there are more productive ways we can use our thinking than simply getting sucked into reactionary media reports.
What is the opposite of overconsumption? Satisfaction. Creation. Giving. Each of those things, as qualities of thought, can be very potent prayers in and of themselves. Rather than allowing the time to pass away glued to a TV screen, why not find ways to give? Why not find ways to love and embrace those around you, and not while looking over your collective shoulders at a TV or computer screen?
The events of the day will unfold whether you are watching the news reports or not, so instead of spending time worrying about them, why not silence the noise and spend that time praying about them? Your individual prayers matter. You are not insignificant. The gifts you have to give to your family, to your neighbors, and even to strangers, are invaluable, and are needed right now. So get praying!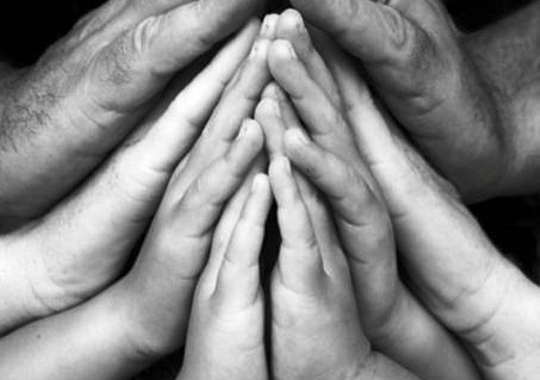 ---
2 Comments from the Community: