Gordon Myers
Articles on Life, Truth, Love, Computers, and Music
---
The Ten-Egg Challenge: Part 7
Day 7: Soft Boiled
Tonight I had another late start on the egg challenge. I had a pretty full day - getting into work bright and early at 7, followed by a haircut, shopping, and then a nice evening with some church friends. When I finally got home (around 10), I got started on this egg right away. Fundamentally, the idea behind preparing a soft boiled egg is actually quite simple. But this little egg gave me quite a bit of grief. They're traditionally served out of something called an "egg cup" (here's an example) which I learned are remarkably hard to find.
On day 1 of this challenge, I knew that I'd be including this style of egg on the list, so I started looking for them right away. I visited Target and a local dollar store, but could not find them. And since I have about a two-store shopping threshold, I gave up and decided to order one off Amazon instead. I went with the cheapest shipping option, but it still cost more than the egg cup itself. I got an email saying my egg cup had shipped the next day, but I didn't notice until this afternoon that the actual estimated date of arrival isn't until January for some reason. But with only four days left in this challenge (if you include today), I knew I had to find an alternative. So after work today I searched Kohls, Walmart, a local variety store, and then the dollar store again. None of them had egg cups - in fact no one that I asked had ever heard of an "egg cup" before. Fortunately, I found a shallow candle holder at the dollar store that looked like it was just about the perfect size. And indeed it was!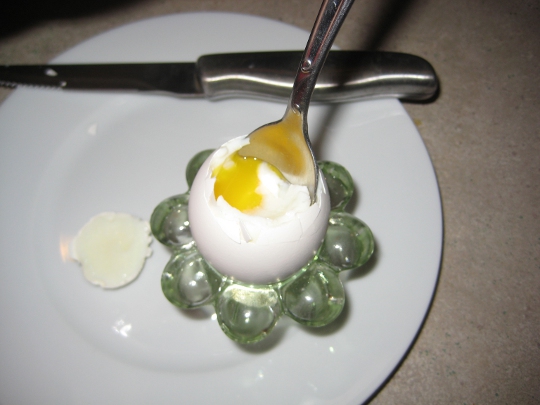 Here's what you'll need to make a soft boiled egg:
An egg cup,
A pot of water,
Some tongs (or a spoon),
A knife, and
An egg
Fill the pot with cold water, and make sure it's nice and full so that the egg will be fully submerged when you put it in. Gently put the egg into the cold water right away, and set your stovetop to high so that you can boil the water with the egg in there. Although they say the watchpot never boils, you're going to have to watch it pretty carefully. The timing has to be very precise with a soft boiled egg. Wait too long and you'll have yourself a hard boiled egg. Fail to wait long enough and you'll just have an uncooked egg. Tonight, as I was cooking this, I have to confess that my first attempt was a failed one. I had everything lined up, when I got finished I even set the egg up in my fake egg cup / candle holder and got my digital camera ready to show it off to the world. But alas, instead of cutting it open and finding a soft boiled egg, I wound up with a hard boiled egg. That has been my first real failure on this challenge. (And now I'm going to have to get additional eggs from the grocery store in order to complete this challenge - boo!) But my second attempt turned out perfectly.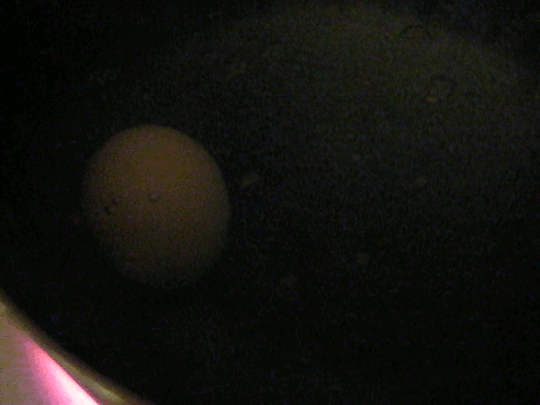 When water goes from cold to boiling, it goes through many different phases along the way. One of these phases, which occurs just a few minutes after being put on the stovetop, is that the whole bottom of the pan will be covered with little air bubbles. And what happens next is that those little air bubbles will start to slowly trickle upwards. As soon as it starts doing that - as soon as you see a slow trickle of air bubbles - you'll want to start a timer. I've showcased a picture of what that looks like above. Once you see that slow trickle of bubbles, set your timer for exactly 4 minutes. By the time the 4 minutes is up, the pot of water might not be completely boiling (though it should be close) - and that's okay. Then, at 4 minutes sharp, use the tongs to remove your egg from the boiling water and do one of two things: either (1) run it under a constant stream of cold water, or (2) place it gently in a big bowl of ice water. When I cooked the hard boiled egg on day 5, I used the stream of water. Tonight, I prepared a big bowl of ice water before I started anything else, so I just dropped the egg in there. I only left it in there for about 20 seconds; this cools it to the point where you can comfortably hold it, but the inside will still be nice and warm.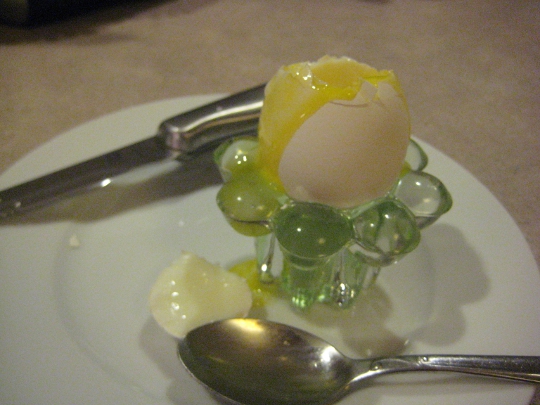 Then, I moved the egg out of the water and into my "egg cup" (which fit surprisingly well!), and took a knife and started tapping towards the top. You basically have to do brain surgery on a soft boiled egg, by surgically removing the top cap and then diving in with your spoon to pull out all the gooey innards. Here's a video of the proper technique. The results? Like I said, the first time I tried this, I was quickly disappointed to learn that I had just made a hard boiled egg. Timing is really key! But on take 2, it turned out beautifully. The yolk was still completely runny, but nice and warm and tasty. You could tell it was cooked, but still liquidy. And it was delicious! I still prefer the fried taste - over easy was pretty darn good - but this wasn't half bad. All the hassle of running around futilely trying to find an egg cup and of having to take a mulligan during cooking eventually paid off in the form of a very tasty egg. So whenever my real egg cup from Amazon does finally arrive, I'll have to make this style again. I'm giving this one a 7 out of 10. Tune in tomorrow (technically speaking today) to see what's next. There are only three styles of eggs left in this challenge!
---