Gordon Myers
Articles on Life, Truth, Love, Computers, and Music
---
The Ten-Egg Challenge: Part 2
Day 2: Sunny Side Up
I'm continuing on with my Ten-egg Challenge with what is probably the most basic of all egg styles: sunny side up. But despite its ease to make, this is another style that, prior to today, I had never made before! And as I understand it, this style provides the foundation for a number of other styles I'll be trying out. Here's the completed egg: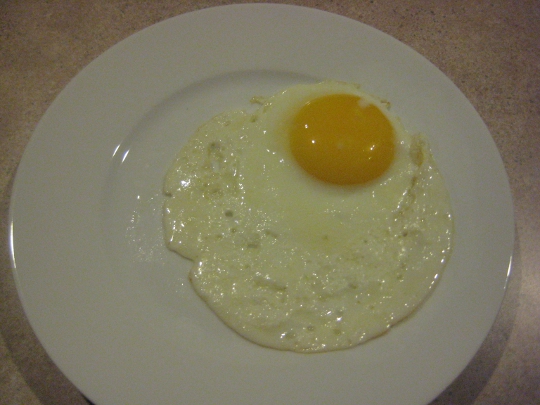 To make this type of egg, you will need:
A frying pan,
A little bit of butter,
A spatula, and
An egg
Grease the pan with butter - I actually used copious amounts of butter here, but that's not so bad - and heat it up on a medium heat, making sure the butter gets spread on the whole pan. Then just crack the egg and drop it in!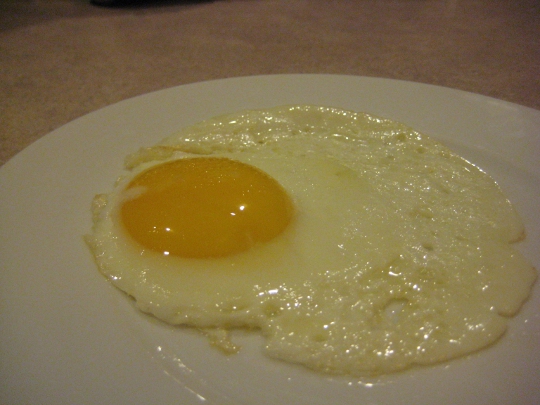 It doesn't take very long to cook an egg sunny side up, so you have to watch it carefully. I've heard that certain restaurants actually refuse to serve eggs this way because, of all the different styles, this borders the closest to serving raw egg. Of course you can leave it in the pan for longer to ensure it gets cooked better, but then there's also the risk of burning it on the bottom. On my very first try, it turned out perfectly. It wasn't too hot or too cold like the big or mid-sized bears, but cooked "just right," as Goldilocks says. It almost wasn't, though! At one point when I thought it looked ready, I softly touched the yolk and, lo and behold, it was still cold. Thankfully it's not rocket science, and obviously a cold yolk is not going to be something you'd want to eat. So... I let it continue cooking for another minute or two, before sliding it out of the pan with a spatula.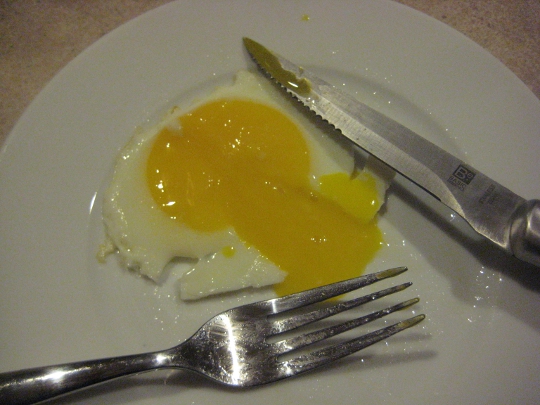 The results? Decent - but not my favorite. Not by a long shot. The egg whites were good, the yolk was nice and runny (but still cooked), and I added salt, as usual, because I like salt a lot. But I don't think I'll be ordering sunny side up eggs nor making them for myself any time soon. I'm giving this style the lowest score of all: 1 out of 10. It was edible but it didn't wow me. Still, now if someone else were to ask me to make sunny side up eggs for them, I would be able to comply and not look like a fool in the process! And that is a good thing; it's good to be prepared.
I made this egg this evening, just before writing this post and just after enjoying a chicken dinner. So I wonder if my disinclination to really get into this style was just the protest of the egg's mother on my taste buds? Honestly, it probably could have been improved if I knew anything about seasoning. But anyways, I've now successfully eliminated vegetarians from my blog readership! Mission accomplished. Tune in tomorrow to see which kind of egg I cook next. And I promise I'll start fulfilling the sub title of this blog soon by actually blogging about things other than food.
---
8 Comments from the Community: